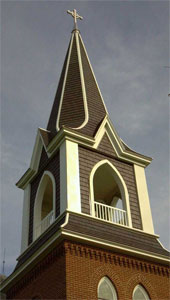 Steeple Work
All types of steeple roofs - asphalt, slate, tile or copper. Steeple painting. Lightening rods, crosses, windows and louvers. Installation, repair and maintenance.
Tuckpointing
Stone, brick, smoke stacks, and chimneys.
Painting
All types of painting - Complete Service.
Caulking
Complete caulking service.
Roofing
Complete re-roofing or small repairs. Tile, Slate, Copper, Asphalt and Fiberglass Shingles.

Flat Roofing
Rubber Roofing
Copper Decking
Tile, Slate and Copper
A complete selection of slate and tile. Individual tiles or slates can be replaced without removing large roof sections. Copper work available.
Chimney Work
Chimney installation or repair
Waterproofing
Water Proofing of Foundations and All Exterior Masonry
Lightning Rod
Gold Leaf Work • Bonded • Fully Insured